---
AUT's built environment is changing
The way we learn and teach is always changing and AUT's built environment is changing to meet the challenges of the future.
From small beginnings come great things. Nothing could be truer when looking back at the expansion of AUT over the years. What started as a technical school in Auckland's CBD has grown into a world-ranked university with three campuses and multiple specialist satellite sites that include AUT Millennium, the Centre for Refugee Education and the Warkworth Radio Astronomy Observatory.
Since 1895 AUT – as we now know it – has reinvented itself many times over: From Auckland Technical Institute (ATI) to Auckland Institute of Technology (AIT) and finally to AUT in 2000 when it was awarded university status.
Purchase of the South Campus in 2008 made AUT the first university in New Zealand to have a campus in rapidly growing South Auckland. And in 2009, AUT partnered with the Millennium Institute of Sport and Health to open the AUT Millennium Campus in Mairangi Bay.
Transformational programme of works for future learning
AUT has since embarked on an ambitious $370 million capital works programme to upgrade and develop buildings to provide dynamic, technology-enabled learning environments that inspire students to achieve through their well-designed, flexible learning spaces that support ongoing changes in technology and pedagogy.
Dr Tony Lanigan was AUT Chancellor at the time AUT was made a university and is now Group Director of the Estates Team and oversees the building maintenance, acquisition of new sites and construction of new buildings at AUT. He says the programme of work over the last 20 years has been inspiring.
"We've taken a brand-new university with a small physical footing and systematically built it up to meet the needs of a new generation of learners. I'm proud of the work we've done and the award-winning buildings we've created."

Dr Tony Lanigan
Group Director of the AUT Estates Team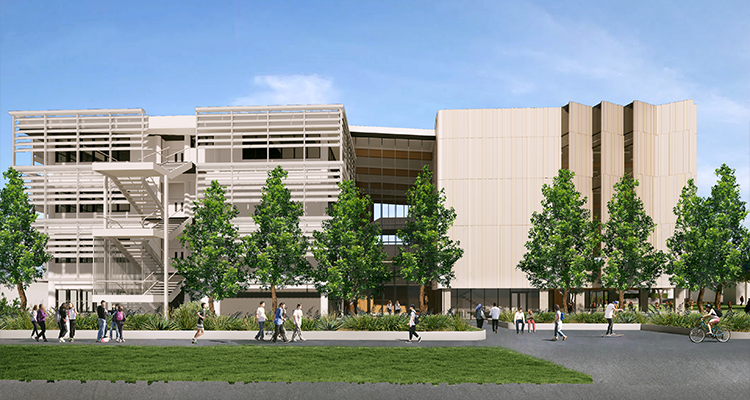 This has included the development of the much-awarded 20,000 square metre Sir Paul Reeves Building in the City Campus in 2013 which, at the time, set a new standard for buildings at AUT in terms of design, technology capability and sustainability.
The next transformation was on the South Campus with the 10,000 square metre award-winning MH building in 2017. The largest part of the programme followed with the ground-breaking Ngā Wai Hono Engineering, Computer and Mathematical Sciences (ECMS) Building on St Paul Street at the City Campus.
"Ngā Wai Hono set a new gold standard for our developments and represents a new way of learning, as the building itself is a teaching tool that inspires and enables its students to use it and its technology to complement their theoretical learning," Dr Lanigan says.
Sustainability at the forefront of North Campus
A1, a new building for the North Campus, began construction at the end of 2019 and is the final part of this capital works programme. With every new building AUT has focused and honed sustainability features and A1 will be the most sustainable yet.
The building envelope and roof will be super insulated, rainwater will be used for irrigation and the cooling tower, and, in a departure from tradition, A1 will be constructed with timber floors and framing rather than steel and concrete. This gives the building potential to be close to 'embedded carbon neutral', meaning this structure will offset the C02 emissions created in the manufacture of other building materials.
Whether refitting LED lights, adding film to windows to reduce afternoon heat gain or tweaking our building management systems to reduce energy consumption, sustainability is driving the design and construction of AUT's new buildings and the refurbishment of existing ones.
Along with these large sustainability projects at AUT come smaller ones, including the installation of a waste system to reduce landfill waste, bike racks around the campuses to reduce our reliance on cars, the start of composting schemes, beehives on roofs and an initiative with design students to turn used plastic bottles into furniture.
The A1 building though, represents the beginning of a sustainability master plan for AUT. The North Campus aims to include a liveable campus with fewer cars and more healthy active transport, healthy sustainable food sources from on-campus gardens and a place where circular economy principles are put into action: Milk bottles can become furniture, packaging and food waste will become compost and zero waste goes to landfill.
Source: AUT Insight Magazine